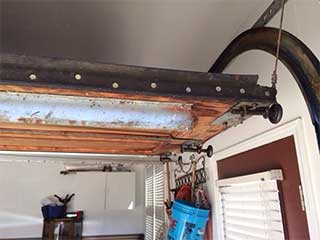 Every complex system needs to be maintained every now and again to keep it in great shape and reduce the wear and tear it goes through. One of the many services our company provides is regular maintenance, and it can make sure every part of your garage door is looked after, so that the entire system will end up lasting for a very long time.
Safety Is Our Main Priority
To ensure that your door remains user friendly and safe, we will test the various features that are responsible for ensuring your safety and well-being. Mainly, the photoelectric eyes and the auto reverse mechanism. Both of these features often work together to prevent the door from closing while there's someone or something is blocking its path. We'll make sure the sensor alignment is correct and that the door does in fact open back up when it encounters an obstacle.
The Most Important Units
Garage door springs have a tremendous responsibly, which is why they must be cared for thoroughly. They're the parts that counterbalance the weight of the panels, and without them, lifting the door would be a herculean task. We'll make sure they are well lubricated, which will also ensure their silent operation. We'll also test their tension and adjust it accordingly to keep the door balanced and even.
Every Single Part
Not a single component will be neglected during our maintenance appointments. We'll make sure the condition of the panels is well preserved and that the door's curb appeal is undeniable. We'll also make sure the tracks haven't developed any bending, and straighten them out if we find such areas. We'll also check the lift cables for fraying, and we'll lubricate the rollers and the hinges so that the movement of the door will make minimal noise.
You Can Count On Us
Our experts will examine every inch of your automatic system and see to it that all of the different components, from the opener's circuit board to the panels themselves, are in the best shape they can be. Contact Garage Door Repair Buffalo Grove today to schedule an appointment.
But wait, there's more! We also offer:
Part Replacement & Lubrication
New Garage Door Installation
Galvanized Torsion Spring Replacement
Door Opener Troubleshooting Services