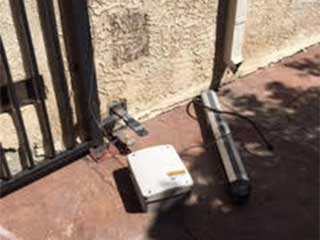 Not only can our company maintain garage door systems of every make and model, we also perform automatic gate repair and installation services as well. Our technicians respond very quickly to service requests and have over two decade's worth of experience to rely upon. That means we can take care of any swing or sliding gate system, regardless of how complex the problem may seem.
New Gate Installation
If you are looking for a replacement to your existing system at home, or simply want to upgrade to a new custom-made gate for your business, we have the expertise that is essential for doing delivering perfect results. Furthermore, we also provide maintenance on an ongoing basis to make sure your automatic system continues functioning optimally for as long as possible.
Steel Gate Repair
Any steel component that's going to be exposed to the elements the way a gate will be properly taken care of to prevent it from rusting. We ensure that the materials we use are properly galvanized to be able to resist corrosion and that they are durable enough to sustain a lot of potential impacts. Our routine maintenance appointments allow us to inspect every part of your gate and make sure that nothing gets too worse for wear.
Wooden Gate Maintenance
The classic look wood panels can create is second to none in terms of beauty and aesthetics. The downside with wood, however, is that it can warp or develop rot if it's not properly cared for. Our specialists can get rid woodlice and replace any rotting part with a matching one that won't reduce the curb appeal or functionality of your gate. Our team specializes in caring for this high-maintenance material, so you can always count on us to make sure it stays beautiful and operational.
Wrought Iron Gate Welding
If your gate gets damaged somehow, whether, from a car collision or some other unexpected reason, our technician can weld everything back together and make sure it stays strong and durable afterward. The quasi-gothic vibe a beautiful wrought iron gate creates is certainly worth preserving, and our technicians always carry all the necessary equipment with them to perform even the most complex of repairs on the spot.
Solving Opener Issues
Your gate, much like an automatic garage door, is powered by an opener. That means that there are several possible mechanical and electrical problems that could end up inflicting it. Our team can replace worn out motor gears as well as fried circuit boards, not to mention test the safety sensors and realign them to make sure they continue functioning properly.
We Have The Answers
Our experts at Garage Door Repair Buffalo Grove can help you with any problem, from repairing a damaged track to adjusting the limit nuts. We provide both residential and commercial services, and can guide you through the selection process to help you choose the perfect gate for you. Call us today.
Looking for more? We also offer: