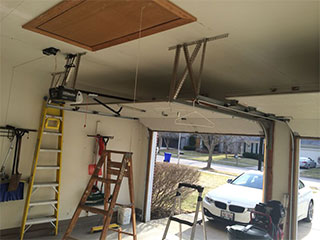 Average annual injuries caused by garage doors in the US exceed 3,000. Even the best products can cause anything from pinched fingers to head fractures, if not handled and cared for with attention. Luckily, there are simple garage door safety guidelines you can start following today to minimalize the risk of injury.
Carry out Regular Maintenance Tasks
A basic inspection of your garage door components will do the trick. Look over the springs, pulleys, cables, and belts at least once a month for visible damage. If you pick up on any rust, fraying, or hear loud, unusual sounds from your system, have a professional to come in and analyze your door. Also, by frequently giving your door minor attention, for example, greasing its parts with WD-40 every couple of months will ensure the door keeps operating for years to come.
Keep Children Away from Garage Doors
Kids have incredibly curious mind and are always seeking for new thrills. Opening and closing the door might seem like a fun game but it is in fact dangerous. Only allow children to operate the door under adult supervision. If you mount the wall button high enough and out of children's reach, you will have a piece of mind they won't hurt themselves by opening the system.
Read the Manual
Those little books that collect dust in your cupboard are a gold mine of information about your garage door. Read them to find out how to release the emergency release feature, how to maintain your operating parts, or simply to find out more about your door system.
Contact a Specialist if Needs be
It is not uncommon for people to attempt repairs on their own, regardless of the scale of their problem. These decisions are the main reasons accidents occur in the first place.
If you have a broken spring, or a disengaged cable, for example, hire a qualified technician to resolve it. Incorrect unfastening of certain components could release high amounts of force that could damage you and your property. Hospital and car repair bills come with more digits than your usual garage door repair service.