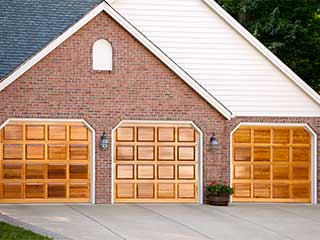 Sometimes, a little change can go a long way. The way your garage door looks to the outside world can tell people a lot not only about your house, but also about you. While you may not care what people think, if you are planning on selling your home in the future, or want to have some people over for anything from a friendly game night to corporate-ladder climbing barbeque networking event, you should probably think about what type of vibe the exterior appearance of your home gives out. Door replacement can ensure that your home will evoke a specific feeling from people the moment they lay their eyes upon it.
Wood Says "Classy"
Wood is famously known for the great curb appeal it has to offer. There's something inherently distinguished and calming about the way this material's smooth and undulating texture looks. Perhaps it's a metaphoric treat, symbolizing man's mastery over nature, or maybe it resonates with us on a subconscious level, flashing us back to a time where things were far simpler and more romantic. In either case, a wooden garage door can greatly improve the overall appearance of your home, and if you don't mind it's regular maintenance requirements, this can be an excellent choice. Wooden doors do, however, tend to be more on the expensive side.
Steel Suggests Security
There is a reason vaults and other reinforced structures often use some type of steel doors at their entrances. This type of material is known for its durability, of course, and thanks to the prevalence of cinema, when we see a steel door, we automatically relate it with the subject of safety and security. With a steel garage door, your home could look like the veritable Fort Knox of your neighborhood. It even has its own majestic appeal in a way, since it also signifies a form of wealth, as people would probably presume there's a reason you chose such a strong door. Of course, a steel door would require a more powerful opener, as it is usually very heavy and requires more horsepower.
The Faux-Wood Compromise
This option can be perfect for the budget conscious homeowner, as it can look just as eye-pleasing as real wood, but will require far less maintenance, and will cost much much less as well. With the right coat of paint, it will have a similar distinguished appeal, without the major downsides.
We're Here to Help
If you're not sure as to which door material would be the best choice for you, our team at Garage Door Repair Buffalo Grove can help. We'll consult you on the different benefits and disadvantages of each option, and once you've made an informed decision, our technicians will perform the new door installation for you quickly and efficiently. Call us today to get more information.