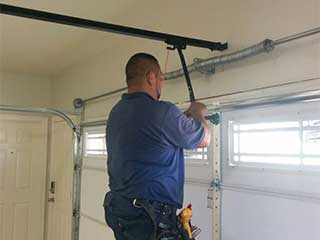 One of the most important parts of your garage door are its springs. They support the weight of the door panels during its operation, and therefore they are under a lot tension day in and day out. Eventually, they'll break, which can be extremely dangerous.
Why Does a Spring Break?
Because these components are intricately involved in the door's operation, they go through a lot of wear and tear damage over the years. The average garage door gets used twice a day, which comes to over seven hundred times a year. Gradually, the condition of these components will degrade further and further until they'll simply snap unexpectedly.
Can I Avoid It?
Technically, no. If your spring isn't replaced in due time, it will eventually break. However, there is a way to delay this and increase the lifespan of your springs. Regular maintenance, which includes lubrication and adjustment, as well as a complete inspection, will ensure that these components continue to function smoothly and safely for as long as possible. Once they reach a point of diminishing returns, count on our experts to replace them before they break.
Upgrades are Available
While there are only two main types of springs used today, there are some variations you choose to go for in order to make sure your garage door is as safe as possible. Galvanized springs will be far more durable and rust resistant than regular ones, and can be a worthwhile investment for those living in moister climates.
Leave Things Up To Us
Whether your springs are about to break, or they already have, you should never try to repair or adjust them by yourself. The risk of an injury simply isn't worth it. Contact our experts at Garage Door Repair Buffalo Grove instead. We'll make sure your door is safe to use again.
Need more? We also provide:
Liftmaster Chain Drive Lubrication
Belt Drive Opener Installation
Oil Tempered Torsion Springs
Roll Up Garage Door Services