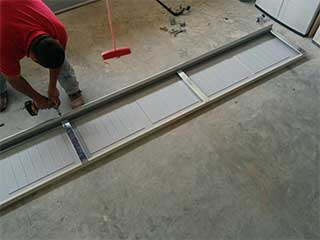 There can be many reasons to replace your current garage door with a new one. Aside from the obvious reasons, such as serious or reoccurring problems, the main one would be that modern systems have a lot of benefits to offer you. But choosing the best door may not be as simple as you think, as there are a few main factors you need to consider.
The Right Material
Deciding which material will be the one best suited for you will depend on the weather conditions in your local area. Wood can develop rot and warping in moisture-prone climate, while steel can eventually rust. Of course, there are ways to get around these issues, such as protective coating, but they require more regular maintenance. An Aluminum garage door, on the other hand, will be very lightweight and won't require a powerful opener or any special maintenance. However, it will get damaged more easily, and won't be able to withstand an impact as well as say, a vinyl door would. We have a wide variety of different door models to choose from, and we can help you find the perfect one for you.
Highly Advanced Features
Newer openers, which are part of an automatic door system (the part that makes it "automatic" as a matter of fact) have a lot of special features to offer you. Safety and security can be greatly improved by choosing an opener with an efficient reversal system and rolling code technology for example. Safety reversal will prevent your new door from hurting any person or object that gets in its path, and rolling code technology, such as the Genie Intellicode, will keep your door from being exploited by tech-savvy burglars. Our company works with the industry's leading name brands and the openers we have to offer all use the latest technology.
Improved Insulation Ability
While wooden garage doors have a natural insulating quality, even steel or aluminum doors can be wonderful insulators if they are properly treated for it. Polystyrene and polyurethane insulation, both the layers, and foam methods, can greatly improve your ability to maintain a desired indoor temperature inside your garage, which will end up saving you money in the long run.
A Different Style
Maybe you just feel like it's time for a change. If you're tired of your overhead door and want to get a roll up one instead, or vice versa, changing the type of door you have can be a welcomed improvement. Some door types require less backroom or headroom, and if your garage is starting to get crowded, maybe you need a changeup.
We Can Help
Our experts at Garage Door Repair Buffalo Grove can help you make an informed decision. Once you've made the perfect choice for you, count on us to perform the door installation process quickly and efficiently. Contact us today for more information.