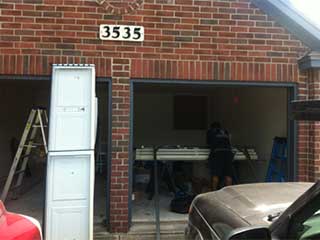 Garage door systems are designed to run smoothly, quietly, and efficiently. But don't make the mistake of thinking your overhead door is indestructible. These are complex machines that can run into a range of various issues, and when they do, you'll need an expert eye to diagnose and treat the problem.
Spectrum Of Repair Solutions
When your garage door system works as it should, everything seems simple: you press a button, and a variety of mechanical and electrical processes click into gear. How exactly all of it works together so seamlessly is a mystery – and this is why it can be so frustrating when your door suddenly gets stuck, refuses to open or close, or becomes slow to respond. Fortunately, our technicians don't find this mysterious at all. Whether it's a problematic circuit board or overworked motor gear in the opener that's to blame, we have the experience to handle any repair that may come up.
Why Your Springs May Need Replacing
Springs play a crucial role for any garage door, no matter how complex. In order to rise quickly off the floor, and drop again in a controlled manner, your door requires tension and power – springs provide both by storing an enormous amount of tensile strength within their coils. That force needs to be carefully contained, however. If your springs take too much strain and begin to break, they may pop under pressure and fly around unpredictably. This can be dangerous for anyone within shooting distance. Never attempt to fix or replace the springs on your own, no matter how confident you feel. Our technicians have been handling these tricky components for years, and are trained in proper safety measures to avoid an accident.
What Are Tracks & Why Do They Become Faulty?
While springs help propel your door upwards, and descend again at the right speed, tracks are there to guide your door in the right direction. Most garage doors require horizontal and vertical tracks, and these pathways will need to be perfectly aligned and unobstructed in order to operate properly. A track that has become loose, clogged, or crooked – due to undue force, a natural build-up of rust or dirt, or a variety of other kinds of damage – can cause your door to jam or cave in. Realigning and clearing these tracks is a labor-intensive, specialist task best left to the experts. Our technicians have the skill required to get your door's tracks cleared and repositioned in no time.
Is your garage door misbehaving? Get in touch with Garage Door Repair Buffalo Grove today for a quote – there's no repair job too big or small for our team.
We also offer:
Clopay Torsion Spring Installation
Genie & Liftmaster Clicker Remotes
Cable & Track Replacement
Overhead Garage Door Services